Our History
The history of funeral Service in our community is something very important to us at Sinnott Funeral Home. George Gilbert and Kenny Geyer are that History.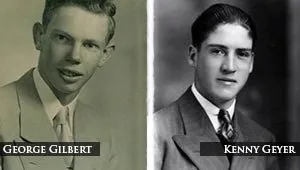 They conducted funeral service with class. Mr. Sinnott had two guys who took him under their wings. They were competitors during their time in business, but they both saw something similar in Mr. Sinnott. "George Gilbert and Kenny Geyer are two men that served our community for many years in the funeral business and they did so with class. It was tough losing both of them within a year's time. They may have been old enough to both be my grandfather, but were both good friends of mine that I knew had great confidence in the work I do."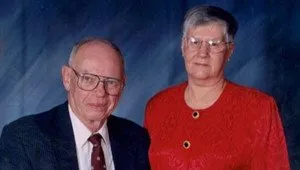 George Gilbert grew up in New Sharon. He worked at a funeral home in Vin-ton, Iowa and Grinnell before serving two years in the United States Army. After returning he attended Cincinnati College of Mortuary Science in 1956. He then returned to Grinnell to serve his internship. In 1961, George and Bonnie moved to Lovilia and bought Zimmermans Funeral Home in Lovilia and Bussey. They later purchased Humeston Funeral Home in Albia in 1983. For nearly 50 years they owned and operated the three funeral homes. After retirement he still kept active in the funeral business. George passed away on April 1, 2011. George left this earth on April fools day, and everyone who knew George will always remember him for the jokester he was.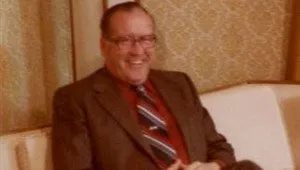 Kenny Geyer started his life of funeral service by mowing the sixteen Ceme-tery and digging graves by hand near Thornburg. This sparked his interest in funeral service . He graduated from St. Louis College of Mortuary Science in 1947. He worked in Sigourney for ten years. He moved to Albin in 1957 to own operate the Geyer-Lewis Funeral Home and Ambulance Service. In 1958 he added the Turner Funeral Home in Moravia. Kenny and Gladys moved the Geyer Funeral Home in 1976 to the United Methodist Church School house. The Geyer Chapel has been conducting funeral services every since this time and will continue to do so until the new construction of the Sinnott Funeral Home is complete. Kenny passed away on September 16, 2010. George and Kenny's legacy of funeral service in our community will never be forgotten at Sinnott Funeral Home. We will conduct funeral service in a way to make both of them proud.